Electric heaters with an automatic control system for the removal of snow and ice turnouts in winter
The most effective way to clean turnout of ice and snow has fallen or caused
Automatic control of heating
Ability to connect up to eight switches to one
control cabinet
High reliability design heaters, electrical
The installed capacity of 6.4 kW at a turnout
Stepped power regulation
Significant energy savings compared with existing analogues
Easy installation and use
Operating voltage 220 V
PURPOSE
CNM system is designed to clean up the drop-down, or snow and ice caused rail turnouts in the winter.
PRINCIPLE
CNM system includes a heater mounted on the outside of switches and automatic heating control system equipped with temperature sensors and precipitation. The system automatically turns on the heating in the presence of snow or ice translation, as well as under conditions favorable for their formation.
Features
High Performance
The special shape of the contact surface of the heaters and the application of thermal interface material provides effective heat transfer from the heater to the body turnout.
mechanical stability
The design of the heating elements ensure reliable operation of the heaters in the conditions of vibration and mechanical forces associated with the movement of rail transport.
resistance to aggressive media and temperature changes
The elements of the system are made of corrosion-resistant materials to provide device performance upon exposure to atmospheric precipitation and the cycle-cal temperature changes.
Reliability, electrical safety, resistance to stray currents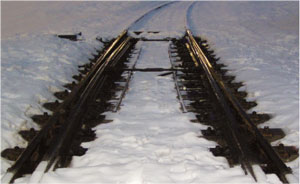 The heaters have a high insulation resistance, ensuring reliable operation in the presence of stray currents associated with the operation of the electric vehicle.
To ensure that activities of automation in all the climatic conditions of the control cabinet housing has a performance of not less than IP-54.
The control system is equipped with circuit breakers and protective device power is turned off.
100% of the products are factory tested, including high voltage test in water.
Cost-effective heating system
Cost of energy consumption provided by the control system automatically changes the power of the heaters or completely breaking them coming from the environmental sensors, depending on the signal environment.
Universal application
Thanks to several sizes of heaters, as well as the possibility of manufacturing non-standard lengths of the heaters can transfer different types of heating and crossings, rails and other structural elements of the upper path.
POWER CONTROL ALGORITHM
In the temperature sensor signal switches off the heating turnouts
In the temperature range from -25 ° C to + 5 ° C heating power system changes from 0% to 100% on signals of the temperature sensors and
precipitation
Such control algorithm gives significant savings
electricity
OPTIONS
opportunity
Remote Control
ability to integrate in the
Management System
CONTENT SYSTEM AND SPECIFICATIONS
| | |
| --- | --- |
| Operating temperature range switching | - 25 ° C - +5 ° C |
| Power | ~ 220 V, 50 Hz |
| Rated power of heaters set at 1strelochny translation * | 6,4 kW |
| The length of the heated part of turnouts * | 8,3 m |
* turnouts types 1/9, 1/11
CONTENT SYSTEM **
Set the heaters to the group from 1 to 8 turnouts
automatic heating control cabinet
temperature sensors and
precipitation
terminal box
fasteners
Kit documentation for installation and operation
system
** Power cable for connecting the heaters is determined after verification of system parameters, and the method of laying lengths together with the customer. The complete set of delivery is not included.
Example SYSTEM NCW on the heated turnouts