Heating «GREEN BOX» - a universal power system space heating through the floor, the installation of which is possible under the tiles (or other decorative coating) and tie
This system. It can work as:
The main heating system in separate buildings, including in cases where there is no possibility to connect to the central heating system.
Additional (comfortable) heating. Installed in conjunction with other types of heating devices and is designed to achieve thermal comfort.
The power of the heating system is selected for the following reasons:
The power density of the heating section must be:


at least 110-120 watts per square meter of free space when the system «GREEN BOX» is set as an additional (comfortable) heating system
.
130-150 watts per square meter, when «GREEN BOX» is used as the main heating system
.

If the «GREEN BOX» is used as the main heating system, the area on which is laid the heating section must be at least 70% of the total area of ??heated space
.
BENEFITS:
Sustainability
Made from eco-friendly materials and fully comply with sanitary norms. The advanced design of the hyperfine twisted pair cable «GREEN BOX» makes it perfectly safe
.
Versatility
Can be laid in any room, practically any size, both on concrete and on old tiled floor, a cement-sand screed and directly under the tile adhesive of choice.
Reliability
There is a large supply of electrical and mechanical strength; heat-resistant insulation can withstand up to 180 0C.
Simplicity and ease
Installation of floor heating «GREEN BOX» as simple, easy to use and does not take much time. All the necessary elements are in one box, the cable is easily installed with a handy plastic coil.
Cost
You can use almost constantly during any cold weather, regardless of the heating season. Thanks to modern electronic thermostat I WARM 710 floor heating «GREEN BOX» consumes so little power that it pay the costs virtually no impact on the budget
.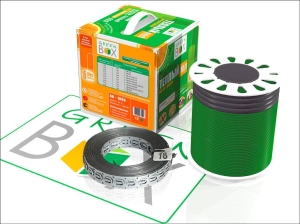 SYSTEM COMPOSITION «GREEN BOX»:
Cable heating section is wound on a spool;
The installation tape.
To the adjusted Time «GREEN BOX» need to use an additional set of «ORANGE BOX»
.
Composition extra set of «ORANGE BOX»:
The thermostat;
The temperature sensor;
The protective corrugated tube for temperature sensor;
Service box, which is designed for switching the installation of cables for the parallel installation of several heating sections. Connections are made to the terminal blocks.